SureCall's Quick Deployment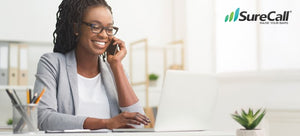 SureCall's Quick Deployment Solution, Covers up to 8,000 Square Feet
Staying connected is easy with SureCall's award-winning Fusion Professional. It provides strong, reliable cellular connections and delivers one of the best coverage areas for any 50 Ohm booster it its class.
Most powerful solution for improving indoor cell signal inside any mid-size building.
Significantly improves voice, text, and data speeds for all North American carriers.
5G compatible supporting 4G/5G devices, Wi-Fi hotspots, and datahubs.
Patented technologies deliver excellent performance in weak signal areas.
FCC and carrier approved. Proudly designed, assembled, and tested in the U.S.
SureCall offers a full line of award-winning signal boosters that improve cellular coverage inside vehicles, homes, offices, warehouses, commercial spaces, and any large building up to 500,000 square feet. All products include SureCall's top-tier support suite with U.S.-based tech support and three-year warranty.
Ask your Fox Partners, LLC account manager how SureCall can solve your signal challenges today!
Leave a comment
Comments will be approved before showing up.